Grin n Bear It Challenge Information
The Grin n Bear It Challenge is the major fundraising event for The Bear Foreman Foundation.
Registration
Registration for Grin N Bear It is online only and open until Friday 15th October at 5:00PM. Select the Register Now links on the website to complete the registration process.
Entry Categories and Fees for 2021 are below.
| | | |
| --- | --- | --- |
| Entry Category | Podium Category | Entry Fee |
| Solo Male / Female | Solo Male / Female | $180.00 per person |
| Teams of 2 Male / Female / Mixed | Teams Male / Female / Mixed | $200.00 per Team |
| Teams of 3 Male / Female / Mixed | Teams Male / Female / Mixed | $270.00 per Team |
| Teams of 4 Male / Female / Mixed | Teams Male / Female / Mixed | $360.00 per Team |
More information is available on the registration page and please contact Sam at fifieldms@bigpond.com if you have any registration questions.
Event Schedule
The updates schedule for Grin N Bear It 2021 is
Date
Time
Event
Thursday 14th October
2:00PM – 4:30PM
Race Bag pickup @ Pump N Pedals, 113 Sheridan St, Cairns
Friday 15th October
5:30PM – 7:00PM
Race Bag pickup @ the Race HQ, Barrabadeen, Lake Tinaroo
Saturday 16th October
5:45AM – 7:00AM
Race Bag pickup @ Race HQ, Camp Barrabadeen, Lake Tinaroo
5:45AM – 7:00AM
Sign-on & competitor race numbering. At least one team member must sign on.
5:45AM – 7:00AM
Transition Open at Race HQ, Camp Barrabadeen, Lake Tinaroo
7:10AM
Race Briefing
7:30AM
Race Start
4:00PM
Presentations
5:30PM
Race Cut Off
6:30PM till late
After Party at Race HQ
Camping
Camping is available at Barrabadeen Scout Camp. We suggest you book your spot soon as spaces are limited. Book sites online at https://www.barrabadeen.com.au/
the password for camp bookings is: GrinnBearit?
or book by phone at 07 40914387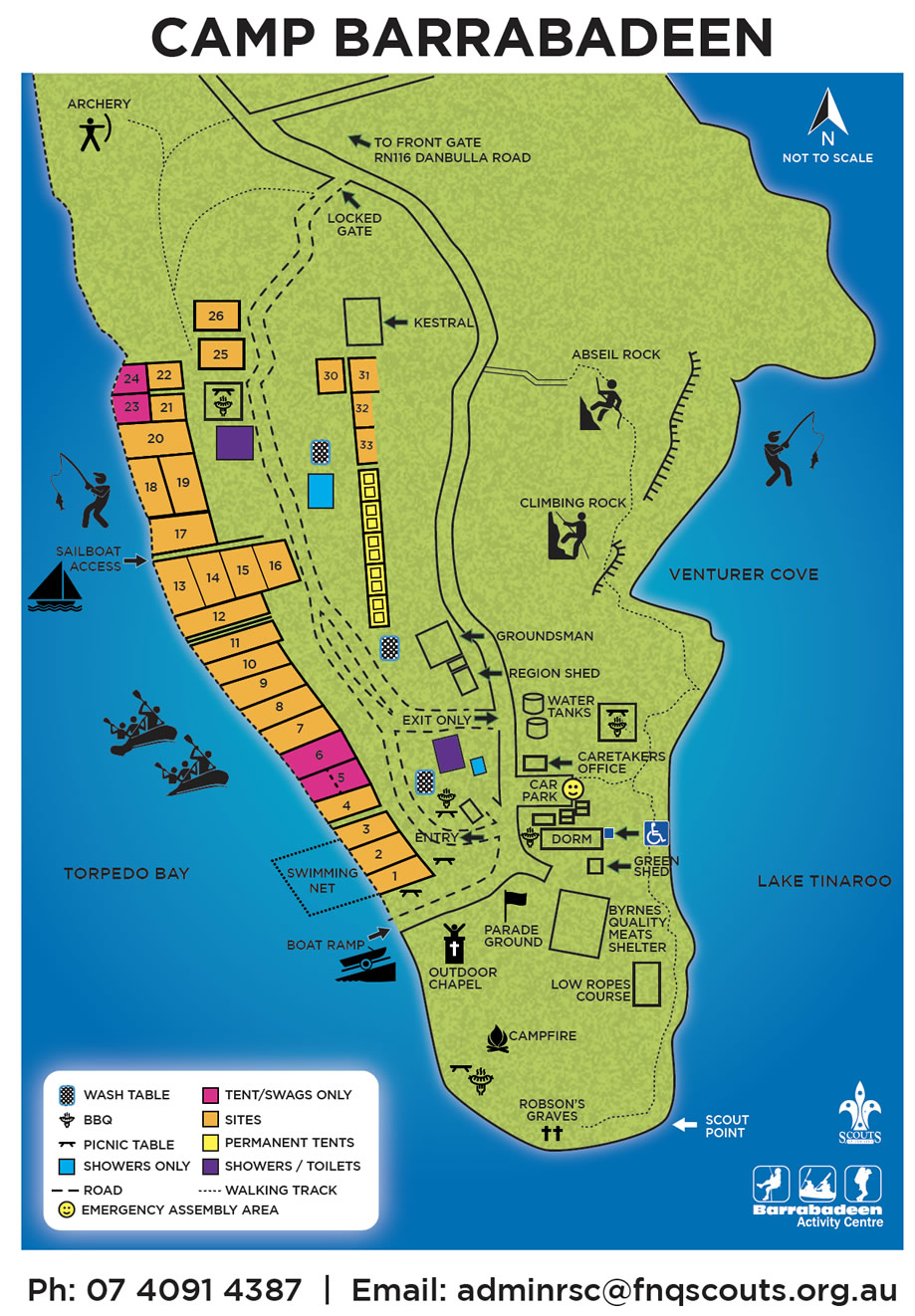 Timing
Timing for Grin N Bear It will be using the Race Result Timing system. Timing mats will be used at the entry and exits to transition to record each leg start and finish time, as well as the amount of time spent in transition.
All solo entries and teams will be allocated one neoprene ankle strap transponder used to record times. Teams will need to swap the transponder between team mates in the transition area. The transponder must be worn on either the left or right ankle and be over the top of any clothing, including swimsuits.
During and after the event, results can be found on the my.raceresult.com website at https://my.raceresult.com/168286/.
Results can be displayed as Overall or by Category and selecting a competitor record will open up more details, such as leg and transition times and rankings.
On race day and at the event, results will be printed out and displayed during the day for those who do have access to the internet. If viewing on a mobile phone, the race results pages display best if the phone is turned sideways to landscape mode.
Catering
Laurie and Kerri from
Ulysses Coffee
will be up and brewing before the sun rises to meet your coffee and tea needs. Coffee, tea, chai, hot/cold chocolate, iced coffee and milkshakes are all on the menu!
Leeandra and her team from
Love – Lee Cooking
will be keeping competitors nourished from Friday night right through Saturday and into Saturday night. Dinners will be a choice of spag bol, beef stroganoff (GF), chicken and vegie curry (GF) and coconut chickpea curry (GF and vegan). Choose from steakburgers, sausage on bread, homemade pies and sausage rolls, roast vegie and quinoa salad and Lee's leafy green garden salad for lunch. Fill up for the big day with bacon and egg burgers, and granola and yoghurt cups for brekkie.
Lee will also have bliss balls, treat bars, raw gems, muffins and drinks for sale during the day.
Cancellation
We will refund full entry fee less registration processing fees up to 24 hours prior to the event. Please contact us at info@grinnbearit.com.au if you are no longer able to attend.
Proud to be Plastic Bottle free. Please bring your own water bottles and coffee/tea cup.